Walk down any street in Kampala and you will be sure to find a betting house. This goes to show that Ugandans do love their gaming but the important question that you should ask yourself is which companies you should deal with and where you should go.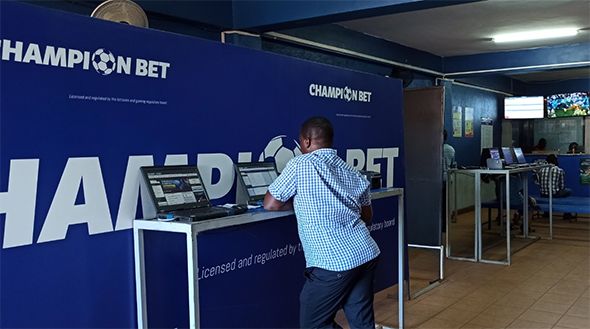 Picture: Champion Bet Uganda
Champion Bet Betting Branches
Champion Bet is not only one of the leading betting operators in the country on account of their amazing odds, but they also happen to have one of the widest network of branches. With over 170 branches spread across the country, you are bond to run into a Champion Bet location near you so you need not worry about having to walk long distances to get your betting done. All branch staff or operators have been well trained and fully equipped with all the skills necessary to ensure that customers are supported in a timely and professional manner. Champion Bet values its customers, so walk into any of the shops and you will get the same attention and in case of any short falls, a complaints desk is always available.
At the branches you can deposit, withdraw or place your bets conveniently and trust that your account will be treated with the utmost confidentiality. Equipped with large screen and modern technology, you can trust that transacting at any of the Champion Bet branches will give you the utmost satisfaction and will make your betting experience a memorable one.

With Champion Bet you can bet online. Click here to register an account!
Champion Bet Kansanga Kampala Uganda
If you are a resident of Kansanga, you are in luck because Champion Bet saw it fit to give you two branches. Kansanga 1 and Kansanga 2 branches are located at convenient places to ensure that all customers in the area are served. The Kansanga 1 branch is open from Monday to Sunday from 10:00am to 04:00pm. While Kansanga 2 is open from 10:00am to 0:00pm. This gives you ample time to get your work done and still have a chance to go betting at your convenience. Visit the Champion Bet website for maps to the two branches and choose the one that is closest to your location. On the site, search for shops, type in Kansanga and click on show on map to locate the branches.
Champion Bet or ForteBet
Many consumers often confuse Champion Bet and ForteBet, but to put it clearly, the two bookmakers are different and they each follow a different set of rules. As far as superiority is concerned, Champion Bet is definitely the superior choice given the many benefits that they offer their players.
Champion Bet Uganda Contacts
Contact information for the bookmaker can be obtained from the website. You can also walk into any of the branches for assistance or send an email to info@championbet.ug for any queries that you might have. The 24-hour customer service will be ready to assist you. You could also use the toll free line 0800 203090.
Betting Jobs in Uganda
It has been profiled that Ugandans spend over 150 billion UGANDA Shillings a year on gambling with most of this income coming from the youth. Well gone are the days when betting was viewed as a pass time for those who are unemployed or those who have nothing to do. It is now an industry that has been penetrated by the rich and elite alike. Although it is not advisable that you consider betting as a job, you could consider it as an extra source of income and a definite source of entertainment. Betting responsible is key here and the principles of responsible gaming cannot be emphasized enough.
25+ Play responsibly. Gambling can be addictive. Play accordingly to the applicable laws of your jurisdiction.