Rating of Fortebet:
8.5

/10
Fortebet Online Betting Uganda
Fortebet is a popular betting house in Uganda but did you also know that they are an online bookmaker as well? From football jackpots to great sports betting odds and out of this world casino games, there is plenty to enjoy form this amazing bookmaker. Good thing the company is licensed so betters can go about their business trusting that they are dealing with a reputable firm that has their best interests at heart and which will pay them any earnings that are due. Play for millions when you choose to play with Fortebet Uganda.
Fortebet Login and Account Registration
To register for an account on Fortebet, you need to log onto their website and click on the orange register button, you will then be redirected to the registration page where you will be asked to supply certain personal information like your name, phone number, email address and date of birth among others.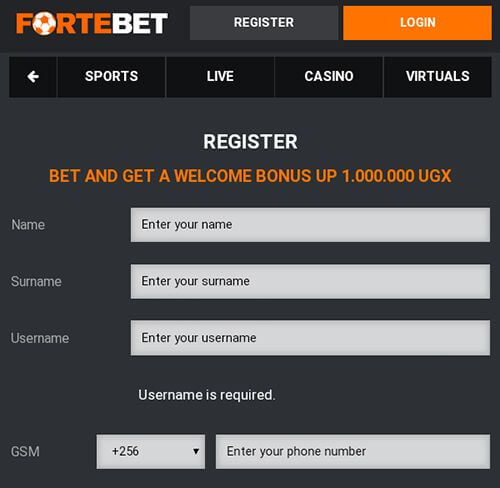 Picture: Fortebet Registration Form
It is important that the correct information be filled in the form and there after you can click the submit button. You will then receive an email notification with confirmation of your login details and a link to activate your account. Upon clicking on the link, you will have finished the registration process and your account will be ready for use.

Visit Fortebet website here to create an account!
Using the phone number you availed at registration, you will receive your login details that you can then use to log into your account. To login, supply your user and password and you will have access to your account.
Fortebet App & Mobile
Unfortunately, the bookmaker does not have an app so the only way to access their online betting services is by logging into the website directly. The good thing they have a mobile and PC version so at least you can do your betting while on the go. With good internet access and a device that accesses the same, you will hardly even notice that the bookmaker has no app, but still, the advantage of Betway app or SBA app is obvious, especially if your internet connection is not good.
Fortebet Fixture today
If you want to catch all the action as it happens then get updates using the fixture today feature. Get to know which teams are playing and the times they are doing so, so that you do not miss out on any of your favourite games. Register for Fortebet today and stand a chance to win an incredible welcome bonus of up to shs. 1,000,000. Simply register, login, make a deposit and bet to get the bonus.
Fortebet Casino
If betting isn't your scene, you can still have tons of fun at the Fortebet casino. Get to play games like Bonus Joker, Dice, Burning Ice, Atlantis, Hell Game, War of the Titans and Magic lady among others. With so many games to choose from, the fun will not stop coming.
Fortebet vs. Betway
Like the expression really goes, big is always big and when it comes to betting, Betway is always the big gun. The first thing that can probably be pointed out is that accessing Betway is way more convenient that Fortebet since the site can be accessed both through the website and the mobile app. When it comes to the bonuses, Betway has no comparison. Fortebet billion bonus might look great on the the first view, but the conditions are not too friendly.
25+ Play responsibly. Gambling can be addictive. Play accordingly to the applicable laws of your jurisdiction.