The fact that Ugandans love to bet can never be stressed enough. But then again, its probably betting that loves Uganda because how else would one explain the many betting houses around? Probably to even it all out, let's agree that betting and Ugandan entertainment go hand in hand and given the huge appetite for gaming, there is need for reputable companies like Betway or Betpawa that can try to satisfy it.
Let's have a look at PawaBet ... or BetPawa? Many people think the name of the company is Pawabet, it actually is BetPawa. It is a company that was incorporated and licensed under the laws of Uganda whose goal is to become the largest and best online betting house in the country. But there are more betting companies in Uganda with the same goal. Who will win the race and attract more customers? Probably the one with the best product and bonuses.
Pawabet Uganda Login and Registration
Registration for Pawabet is pretty simple. All you need is an internet connection and a computer or mobile device. Go to Betpawa and click on JOIN NOW. Enter your mobile number (preferably one that is registered to mobile money), a password of your choice, first name, last name, location, national ID number and select join now to confirm. Remember to tick to accept the terms and conditions of the website (after reading them first of course). You will receive a message notifying you of the success of registration after which you can proceed to make a deposit onto your new account.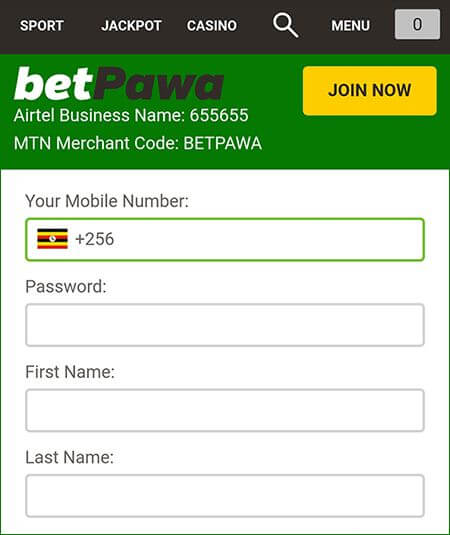 Picture: Betpawa Registration Form
Pawabet Live
Live betting is an invention that allows you to bet as the game proceeds. You can place your bets at the start and during the game. For Pawabet live, open your web browser and go to Betpawa. Click on login and enter your phone number and password to continue. When you are logged into your account, click on LIVE NOW at the top of the sports menu.
All live or in play games will be displayed and you can click on the one you wish to place your bets on. Select your choice and click on 0 to display your bet slip and then insert your stake or amount you wish to bet and click on place bet. Note that betting prices keep changing so the earlier you place your live bet, the better.
Pawabet Uganda App
Betting gets easier with the Pawabet app that is available for android users. Simply log onto play store and search for Betpawa to download the app. However, you will need to enable the install from unknown sources feature on your device for installation of the app to be done. Bet on your favourite games or catch up on the action as it happens on the go with the app. With the app, log in and store your log in details for a faster and much more convenient betting experience.
However, essential to point out is that despite the fact that the app exists; there is not much that you can do with it as compared to applications by giants like Betway. It has certain limitations that cannot be easily ignored. Although when it comes to European football betting, the app is definitely a good choice.
For Apple users, even without the app, you can still experience very good betting by using the mobile version of the website. Access the site from your mobile device and still get to have an nice gaming experience.
Pawabet Prediction
There are those times when you are torn about who you should bet on and what their odds in the game will be. Worry not, Pawabet offers you predictions formulated by a well thought out algorithm and has experts on their panel to ensure that you get the best of advantages when betting. Not saying you should trust the prediction 100% but at least they are a good place to start.
25+ Play responsibly. Gambling can be addictive. Play accordingly to the applicable laws of your jurisdiction.