Online betting
Sports Betting Africa (SBA) UG Registration and Login
Ugandans love top bet but there is nothing they love more than knowing that they are betting with a genuine company that will pay them what they are due. Sports Betting Africa (SBA) Uganda is one of the best bookmakers in the country today. You have probably seen their black white and yellow logo on a street near you. The bookmaker has tried to spread its wings through the country by creating a great physical presence and opening up branches in most parts of the country. If you cannot locate a branch near you or if you just do not feel like going out, the great news is that they also have a great online platform that you can make use of.
SBA Uganda
The bookmaker has a great website that is always kept up to date with the latest sports events and offers you the live betting feature that allows you to bet as the action unfolds. If you miss out on anything, you can also get all the information you need from the SBA news section.

Click here to register an account with SBA and enjoy the bonuses and winnings!
With SBA, you can bet on all football matches that you can think of from the major leagues like Premier League or Championship to our very own local leagues like the Startimes Premier league. The bookmaker clearly has so much to offer.
SBA Login
To enjoy the features of the SBA UG page, you will be required to first register for the site or have an account with them. To register for this great platform just click here.
The site can be accessed both on your mobile device and PC. Once open, locate the register icon at the right corner of the page and supply a few of your details like name, email, phone number, preferred language, date of birth and preferred password. You will also be required to confirm that you are above 18 years of ager and agree to the SBA terms and conditions.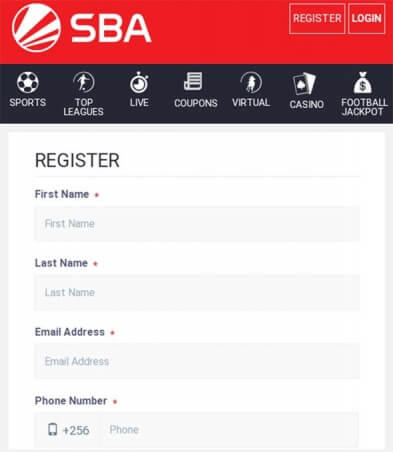 Sports Betting Africa Registration Page
You will then receive notification of your registration status and details so you can be able to log into your account.
SBA Login Page
To log into your SBA account, supply your user name or phone number and the password you chose. No worries, if you forgot your user details or password, the site has a great straightforward reset feature. Click on forgot password and input your email address to reset.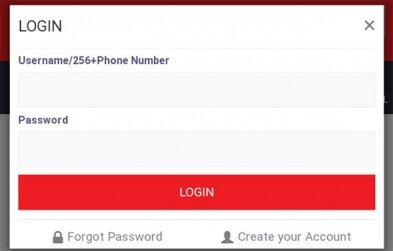 Sports Betting Africa Login Page
SBA Deposits and Withdrawals
To deposit funds onto your SBA account, simply log into your account and click on the DEPOSIT icon. The bookmaker currently offers three convenient payment methods, Africell money, MTN mobile money and Airtel Mobile Money, which is in line with the current mobile money movement that makes it easy to pay for goods and services. You could choose to deposit straight from the website or directly from your mobile money USSD.
From the website, choose your preferred deposit option, enter your phone number and amount you wish to deposit then click on confirm. You will then receive a unique OTP number via SMS that you can then input in the website to confirm your deposit for processing. You will also receive a prompt to enter your mobile money pin and then click on confirm to complete. Funds deposited will reflect in your account within five minutes.
SBA pre purchased voucher
It is also possible to deposit funds using a pre purchased SBA voucher. Vouchers can be purchased from any of the SBA agents or shops on the street. Once you have your voucher, log into your account and click on deposit and then select the voucher option. You will be presented with any active bonuses that you might have qualified for (click accept to activate them). Click on PROCEED PAYMENT, enter your voucher code and click SUBMIT. Money will be credited onto your account once your voucher code is successfully validated.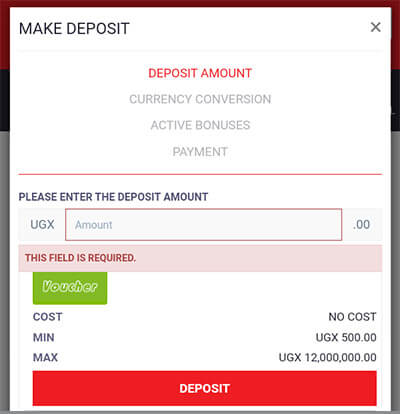 Sports Betting Africa Deposit Page
SBA deposit via MTN mobile money
To deposit via MTN mobile money using USSD, dial *272#, select betting option 7, enter amount and input your mobile money password to confirm. You will then receive notification if your deposit has been successful or not in less than five minutes after a background security check with your MTN mobile number.
SBA deposit via Airtel money or Africell Money
To deposit via Airtel money or Africell Money, you should have used your Airtel/Africell number to register for the account. Login into your account and select deposit, choose your number from the number field or input it as a new number in the new phone field, follow the prompts and click submit.
Money withdrawal from SBA account
Withdrawing from the site is equally as easy as depositing and the same payment options are available. Simply visit the site and select WITHDRAW and enter the payment account onto which you want your money to be deposited. Withdrawal requests are usually processed quickly so you can expect to have your money with you in no time. However, its important to note that you will be required to withdraw the same amount deposited via each method before being given an option to withdraw via alternative mobile money methods.
Online Betting Uganda
Online betting in Uganda is fast becoming an option of choice to many betters because of the convenience it offers and the fact that many platforms like SBA are making it easier and easier for players to withdraw their winnings and even watch live matches. No more hustle of lining up to get 'kapapula' as it's popularly known since you can get your betting slip online and still get to win.
SPORTS BETTING AFRICA - BONUS USh 60,000
Start betting on sports with Sports Betting Africa and get bonus up to USh 60,000. Download SBA mobile App and enjoy the best odds in the market.
25+ Play responsibly. Gambling can be addictive. Play accordingly to the applicable laws of your jurisdiction.