Rating of Champion Bet:
9.6

/10
Champion Bet UG Online
Licensed and regulated by the Uganda National Gaming Board, Champion Bet is living up to its name by brining you all your favourite online betting markets and sports alongside their leading online casino. Over the years, the bookmaker has earned a reputation for bringing some of the best odds to the betting scene and they are doing the same with their online sports book. Access Champion Bet UG on your smartphone or computer and do your betting in peace. Bet live on soccer, tennis and much more at your home or office with Champion Bet.
Champion Bet Latest News - Betting Shops Closed
At least until May 5th all Champion Bet shops are closed as a result of the presidential directive to close all non-essential businesses and reduce concentration areas around the country.
This, however, does not mean any impact on Champion Bet online website, which remains available and live 24 hours a day. You can continue to enjoy casino games and other forms of gaming from the Champion bet website or with Champion Bet App. Simply log on here and choose you favourite game.
Champion Bet Registration
To enjoy all the benefits that this amazing bookmaker offers, you need to first register for an account by following the below simple steps.
Search for and click on the blue REGISTER button after which you will be redirected to the registration page
Think of a unique NICKNAME that you would like to use in your account (it should be unique and not be used by anyone else on the site). It should contain at least two characters and it is possible to use number and letters
Enter your valid phone number, email address and date of birth
Confirm that you are above the age of 18 years and have read and accepted all the Champion Bet Terms and Conditions (important is that you actually take time to read these  terms and conditions as opposed to simply ticking off that you have done so).
Click on REGISTER.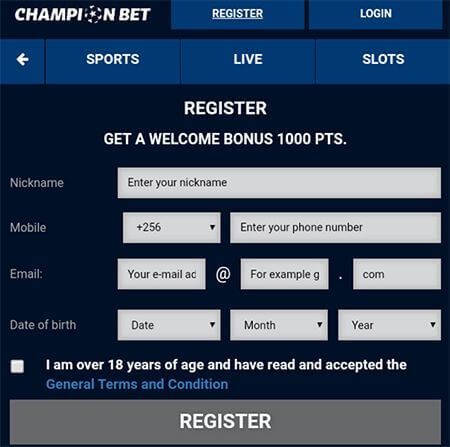 Picture: Champion Bet Registration Form
Once your details are valid, you will receive a message on your phone with your log in details including your selected NICKNAME and a system generated password.
Champion Bet Uganda Login
Now that you have been registered on Champion Bet, the next step is for you to log into your account so you can start betting. To start enter your user name or nickname and password in the required fields and then click on the LOGIN button. If you happen to have forgotten your password or user details, click on the 'forgot password' button and enter your nickname or email address for recovery to start. Remember not to share your login details with anyone and to keep your password secure.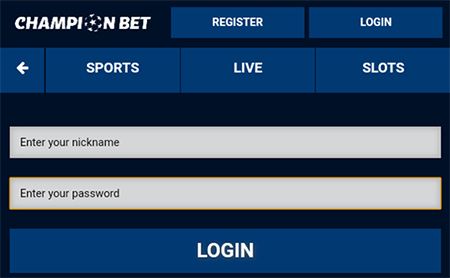 Picture: Champion Bet Mobile Login
Champion Bet – Deposit and Withdrawals
Deposits and withdrawals to and from your Champion Bet account can be done in three ways.
Deposit at the branch
Visit any of the Champion Bet centres or branches and for a deposit, tell the operator that you would like to make a Client In transaction. Avail the operator with your username and money you would like deposited onto your account. After the transaction, money will reflect into your account immediately and you will be presented with a transaction slip to confirm that the correct account has been credited. Remember that the minimum deposit if Ugx. 1,000 while there is no maximum deposit.
For withdrawals, you will need to log into your account and initiate a withdrawal request by clicking on the account button and in the left menu click on the cash out link and then enter the amount you wish to withdraw. A 4 digit number will be sent to your phone, which you will need to present to the operator together with your user name. Minimum cash out is Ugx.1,000 while there is no maximum cash out amount.
Airtel Money and MTN Mobile Money
Log into your Champion Bet account and select deposit then choose Airtel or MTN option. You will need to input the amount you wish to deposit. An approval notification will be sent to your phone for you to approve the transaction by entering your mobile money pin. Once approved, funds will be credited onto your account within 5 minutes. The minimum deposit amount here is Ugx. 1,000 while the maximum for Airtel is Ugx. 5,000,000 and Ugx. 7,000,000 for MTN. Remember that you need to have sufficient funds in your mobile money account for the transaction to be successful.

Picture: Champion Bet Deposit Options
For withdrawals, log into your account and click on the withdraw link. Select your mobile money operator (MTN or Airtel, depending on which phone number you registered your account with). Enter the amount you wish to withdraw and click send. The transaction will be processed within 24 hours and funds credited onto your mobile money account. Minimum withdrawal amount is Ugx. 1,000 while maximum for Airtel is Ugx. 5,000,000 and Ugx. 7,000,000 for MTN. Standard mobile money fees will apply.
Champion Bet Bonus Up to 30%
Champion Bet brings you an extra bonus of up to 30% depending on the total winning odds on your ticket. The bonus is determined by the number of selections on your ticket with each additional selection increasing your bonus value by 1%. With the maximum being 30%, it means that you can stock up to 32 selections on your ticket. With extra bonus like this, why not choose to place your bets with Champion bet.
25+ Play responsibly. Gambling can be addictive. Play accordingly to the applicable laws of your jurisdiction.