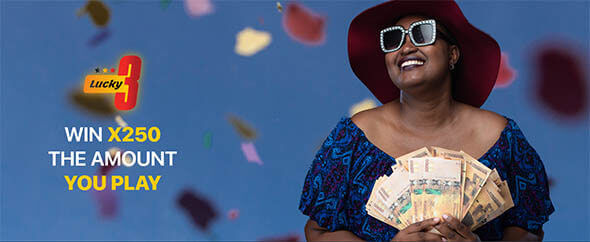 Picture: Mojabet.ug
Lucky3
There is so much hype going around about Lucky 3 that one cannot help but stop and take notice. Simply put, Lucky 3 is a game or lottery that is run by RF20 Limited trading as MOJABET a company that is fully licensed by the National Gaming Board of Uganda. Essentially the game is similar to Supa 3 lottery and allows players to choose any three numbers of their choice and stand a chance to win.
How to Play Lucky 3 Uganda
Lucky 3 can be played through mobile phones via SMS and USSD or even online. The game is currently only available on MTN and Airtel. Let's dig into how exactly its played.
Make sure you have at least shs. 1,000 on your MTN or Airtel mobile money account since this is the minimum stake required. Maximum stake that can be played is shs. 50,000
Think about the lucky three numbers that you would like to play. The numbers should be between 0 and 9 and can be in any order of your choosing.
When playing online, visit the Lucky 3 website and click on PLAY HERE. Enter your mobile number and selected three numbers in the provided spaces, followed by the amount you wish to play and enter MOJA as the reference. You will receive a prompt on your phone to enter your mobile money pin to confirm the transaction. Once confirmed, an SMS confirmation will be sent to your phone.
To play via MTN, dial *165*4*4#, enter MOJA as the merchant code, enter your lucky 3 numbers, enter amount you are staking and confirm with your mobile money pin. You will receive an SMS confirmation once transaction has been completed.

To play via Airtel

, dial *185*4*9#, enter 112233 as the merchant code, enter your 3 lucky numbers, place your stake and confirm with your mobile money pin. An SMS confirmation will be sent to your phone.
It is also possible to play the game via SMS. Simply open a new SMS page, enter your luck 3 numbers, leave a space, enter the amount you wish to stake, leave another space and enter reference as MOJA. For example, 256 5000 MOJA. Send the SMS to 6000 and you will receive a prompt to enter either your MTN or Airtel mobile money pin, depending on the network you are using for sending the SMS.
Note that you will incur transaction charges for sending mobile money.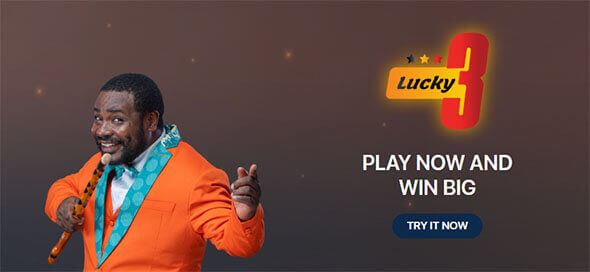 Picture: Mojabet.ug
Lucky3 Jackpot
The Lucky 3 draw is run every ten minutes and will run for 24 hours every day. This means that there is a lucky winner every ten minutes that the draw is made. However, in addition to the ten minute draws, there are weekly draws where lucky players stand a chance to win a minimum jackpot of 35 MILLION UGANDA SHILLINGS if you guessed your lucky numbers in the exact same order.
However, no worries, if the numbers are correct but in a different order you still get to walk away with 8 Million Uganda Shillings, 4 million for two correct numbers, two million for one number and even when you get no number right, you could still get one million in the jackpot show. Lucky 3 is truly a game that just keeps rewarding. There are however, terms and conditions to the jackpot that you need to familiarize yourself with.

Would you like to win even more? Read about how much you can win with Betway Lucky Numbers!
Lucky3 Result Today
Lucky 3 winners are always notified and they can claim their winnings at any time between working hours. The weekly jackpot shows are broadcasted live on Bukedde TV1 and Urban TV every Saturday starting at 09:00pm. Do not miss the show since you could be the lucky player called and could walk away with the jackpot.
25+ Play responsibly. Gambling can be addictive. Play accordingly to the applicable laws of your jurisdiction.