Rating of Betway: 10/10
Mobile App: Bet anytime and anywhere
Legitimacy: Betway is without doubt a legit site that offers a great experience
The website of Betway Uganda is open 24/7 and online play is available from anywhere. Players can enjoy some fun with sports betting, online casino or virtual sports from the safety of their homes. Also there is a new amazing Betway promotion available - read here.
Betway Uganda - Sign Up and Mobile App
Betway originated from the UK is a global online gambling and online betting operator that was introduced in Uganda in early 2015. Betway is fully licensed and regulated by the gaming board of Uganda. The global reach and huge experience allow Betway to provide first class services to all players.
Betway operates not only online betting site, but also very popular online casino.
Betway Uganda Sign Up and Registration
Signing up at Betway Uganda is really simple, all you need is internet connection and device that enables you access the internet. Once you are well equipped, click here from your smartphone or laptop and you will be directed to the official webpage of Betway Uganda.

While there you will notice there is a sign up icon at the bottom of the page coloured in green or even at the top of the page in between login and bet slip icons. Once you click the sign up icon, you will be directed to a "register an account" page.
You will be needed to insert in your details like your mobile number, new password and email address. You should make sure to insert in a mobile number that you are sure it is yours and you can use it for either Airtel money or MTN mobile money.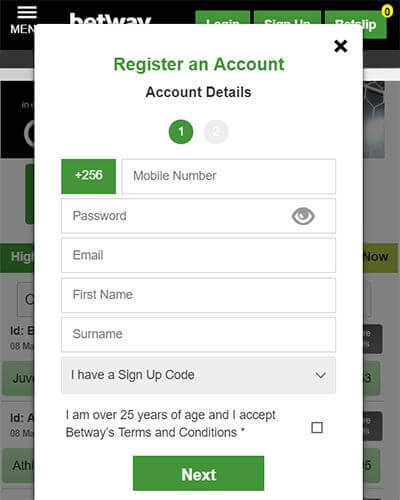 Picture: Betway Uganda

After inserting in your details and of course agreeing to their terms and conditions, you can click the register icon at the bottom page. You will receive a message from Betway Uganda via the mobile number you registered with confirming your details: password and username (mobile number).
Betway Uganda Login
After signing up, you become a new customer to Betway Uganda and the only thing stopping you from winning lots of cash or even jackpot is login in and depositing cash on to your Betway account!
For you to login, just go to Betway Uganda website and click the login icon which is at the top right of your screen.
Then you can insert in your password and username (mobile number) to login.
Betway Uganda App
Betway Uganda further provides its Ugandan customers with a Betway App. This app supports both Android devices and iPhone devices. You can download it directly from the Betway Uganda website. Visit the first page on the website then tap on the menu button and also click the info button and from there you will see the Betway App icon. Just tap that to download the app. For android users you can download the app directly from the page since it's an APK one.
As for the iPhone users, you will be directed to the App Store so that you can download it from there.
Why should you download Betway App? The answer is simple. The app is easy to access and uses less data which means it loads faster than the website. It's very user-friendly and you get notifications about fixtures and info about the latest promotions.
Betway App download
The Betway App can be downloaded directly on the Betway homepage. Remember to allow the installation of apps from unknown sources on your phone in order to use the App.
Betway Uganda contacts
You can contact Betway via various communication methods. You can use the phone, WhatsApp, a Live Chat feature and e-mails. The Betway support is available between 07:30 am to 09:00 pm.
Betway Live Chat
You can access the Live Chat feature by opening the "contact us" section and then by clicking on the "Live Chat" tab. Afterwards, you need to enter your e-mail address and your name to start the live chat.
Is Betway a legit site?
Betway is without doubt a legit site that offers a great experience to players, who enjoy online gambling including slots, casino games such as Roulette and Blackjack; as well as to players who prefer online betting. Betway holds licenses in Uganda, the UK, Malta, Denmark, Germany, Spain and other countries. This means a very high degree of safety for players.
Betway, Betaway, Bet way or Beway?
The right name of the popular online betting company is Betway not Beway or Betaway. These are the most common errors that people make when trying to type Betway. It also should be typed in as Betway without a space in between and not Bet way  because it's one word and not separate words.
25+ Play responsibly. Gambling can be addictive. Play accordingly to the applicable laws of your jurisdiction.