Rating of Champion Bet Android App: 9.3/10
Easy to navigate, placed bets in a few clicks
Fast installation
Integration of unique casino slots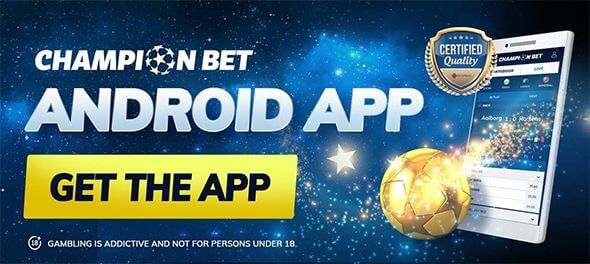 Picture: Champion Bet Uganda
There is no doubt that Champion Bet is fast becoming one of the choice bookmakers in the country. They have a wide presence with their well spread network of outlets. They boast of having over 170 shops that can be used for both deposits and withdrawals. The bookmaker also serves its online customers well through its website. But did you know that they also have a mobile application that you could make use of? Let's see how it works.

Don't have an account with Champion Bet yet? Click here to register!
Champion Bet Mobile
It is possible to access Champion Bet on your smartphone by simply clicking here. You will immediately be redirected to the bookmaker's mobile site that has everything you would find on the website version, only that the interface has been simplified to suit mobile devices and make it possible for you to quickly navigate it.
From your mobile you can view your balance, deposit funds, withdrawal your winnings, place your bets and even play some of the unique slots that the bookmaker offers.
Champion Bet Mobile App
The Champion Bet mobile app is a fast and convenient way for you to bet. Champion Bet is one of the first bookmakers to have a fully functional mobile app that gives you safe and convenient betting.
Champion Bet App
Sadly the app is not yet available for Apple users and is only available for Android users. The good news is that Apple users can still make use of the mobile version of the website which is just as convenient as having the app itself given that it stores password and user name if that is something that you prefer.
Since the app is not yet available in google play store, it is perhaps essential that we look at how best it can be downloaded onto your mobile device.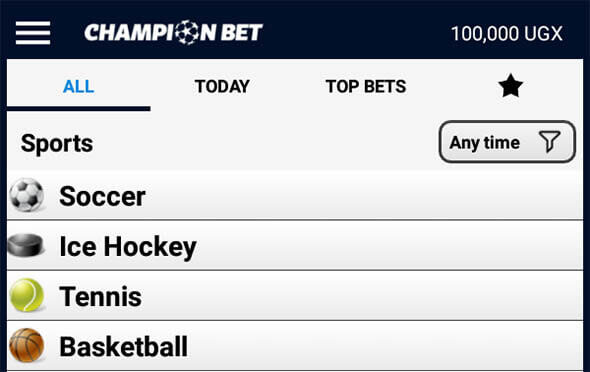 Picture: Champion Bet Mobile App
Champion Bet App Download
As noted earlier, the Champion Bet app is not yet on google play store so it will have to be downloaded from the website which is the safest place you could do so.
However, before downloading, you will have to have a created account at Champion Bet since it will be from your account that you will be able to access the mobile app feature. Additionally, you need to enable the "install from unknown sources" feature in your phone settings for you to be able to install the application. Once you have enabled this feature, you can then move on to try and have the app installed in some of the following ways:
Via SMS. On the website, enter your phone number and you will receive an SMS with instructions or guide on how to install the app. All you will have to do is click on the link in the SMS.
Via scanning QR code: It is possible to install the app by simply scanning the QR code on the website.
Straight download: If the above two options are not convenient for you, no worries. You can still download the app straight to your computer or mobile by simply clicking the download application button.
Champion Bet Apk
To install the app, click on the downloaded file and select install. Once complete, you will receive notification that your app has been installed and then you can start betting easily and conveniently with Champion Bet.
25+ Play responsibly. Gambling can be addictive. Play accordingly to the applicable laws of your jurisdiction.