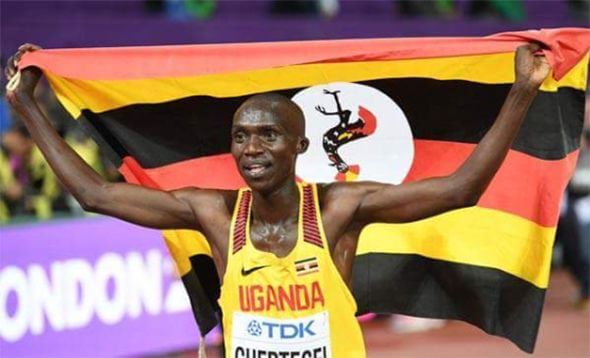 Photo: Twitter
Uganda's assault on the 10,000 meters led by Joshua Cheptegei in the IAAF Diamond League gave us another reason to be proud of this great Pearl of Africa. I was his moment of glory and he got to repeat what he did last year only that this time it was a global glory. What a race and what a win for the 23 year old. The race really had everything that many of us had anticipated. So much drama, so much tension, so much speed and so much concentration.
Joshua Cheptegei and his world title in Doha 2019
I mean we knew that the guy was strong but who knew that he was that strong. In just 20 minutes, he had transformed the stadium into his very own.
Maintaining his position among the first three from the very start, Cheptegei clearly knew where he wanted to be and that was at the top. Stuck between two Kenyan and two Ethiopian athletes, his was not an easy position but he did not take his eyes off the prize and what a win he gave us. Even with a little shoulder nudging from Yomif Kejelcha the Ethiopian athlete, Cheptegei crucially held the inside line and no wonder all Kejelcha could do was shake his head at the level of skill exhibited by the Ugandan. Winning at 26:48:36 he now holds the fastest time in the world.
With a silver two years ago behind Mohammed Farah, and gold ever since, it was an easy decision to bet on Cheptegei's victory and kudos to those who caught the action early. Well if you missed out on this action, you still have a chance to bet on your favorite athlete at the IAAF diamond league.
25+ Play responsibly. Gambling can be addictive. Play accordingly to the applicable laws of your jurisdiction.