There is something about sports that just makes people go crazy. It is the one activity that brings people from all forms of backgrounds together with the one goal of having fun. So it is no surprise that many Ugandans today have gotten onto the band wagon of enjoying MMA. It is for this reason that we thought it wise to talk a little about this sport that have gotten its lovers in a watching frenzy.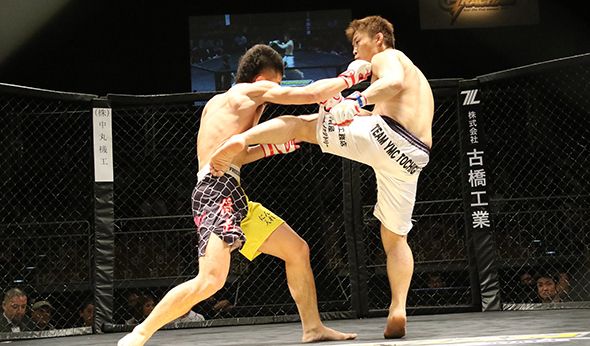 Photo: Pixabay.com
MMA Boxing
MMA or Mixed Martial Arts is a full contact combat sport that is sometimes also referred to as cage fighting. It is a sport where players fight it out in a cage and engage in various forms of mixed martial arts from all over the world. It is a sport that involves grappling, striking and ground fighting. It basically combines all the combat sport that you know like boxing, kick boxing and wrestling.
The history of MMA is a subject of much debate and it is not very clear who exactly coined the term but many scholars and fans give credit to the legendary Bruce Lee's Jeet Kune Do in the late 1960s for having popularized the mixing of various elements of martial arts. However, it was not until 1980 that CV Production Inc created the first regulated MMA league in the United States which was called the Tough Guy Contest.
In 1993, the 1920s Brazilian Jiu Jitsu was brought to the United States by the Gracie Family who then founded the Ultimate Fighting Championship (UFC) MMA promotion company. Notable is that in its initial stages, the sport existed with almost no rules as fighters from different walks of life were pitted against each other in a an attempt to find the best and most effect form of martial arts. However call for regulation called for proper rules to be put in place for the safety of the competitors and enjoyment of the spectators which has also increased the popularity of the sport.
MMA Events
Today, given the popularity of the event and the fact that it is broadcast on pay TV, a number of events and tournaments are being promoted. MMA events are also very popular among betters. All online bookmakers like Betway, 1Xbet or Champion Bet are offering many betting markets on every match. Below are some of the predominant events.
MMA Fights UFC
UFC or Ultimate Fighting Championships is an American MMA promotion company that is based out of Las Vegas and is considered to be one of the largest MMA promotion companies in the world. The company is co-owned by Endeavor Group Holdings, MSD Capital, Kohlberg Kravis Roberts and Silver Lake Partners.
UFC promotes events all over the world is credited for having some of the best fighters on their roaster including some that we shall look at later on. Events promoted by UFC feature 12 weight divisions (8 for men and 4 for women). Holding over 500 events as of today, it is no wonder that the company has grown into a multi-billion enterprise.
The first UFC fight was held in 1993 but due to a number of TV deals and various promotion activities, it has expanded into markets like Australia, Asia, Europe and Africa. Some critics have however said that UFC has put on too many events and therefore, diluted the sport but to many fans out there, the more events, the more enjoyment to be offered.
MMA Bellator
Bellator MMA is an American MMA promotion company that is based out of Santa Monica, California and happens to be the largest combat sport promotion company in the world and the second largest in the United States of America. Formerly known as Bellator Fighting Championships, the company names comes from the Latin word Bellator, which means warrior. The company's first event was held in December 2009 and has since then held over 236 events. The promoter is credited for featuring a number of big MMA fighters.
MMA Belts and Categories
The MMA competition is classified into different weight classes and competitors compete according to these. The weight classes are classified into those for men and those for women since the two sexes compete separately. As the sport has kept on evolving, weight classes have been added. Below are the recognized weight classes and categories in the sport of MMA.
| | |
| --- | --- |
| Class | Upper Weight Limit (kgs) |
| Heavy weight | 120.2 |
| Cruiser weight | 102.1 |
| Light heavy weight | 93 |
| Super middle weight | 88.5 |
| Middle weight | 83.9 |
| Super welter weight | 79.4 |
| Welter weight | 77.1 |
| Super light weight | 74.8 |
| Light weight | 70.3 |
| Feather weight | 65.8 |
| Bantam weight | 61.2 |
| Fly weight | 56.7 |
| Straw weight | 52.2 |
When it comes to women, most event promoters only recognize weights that are lowest on the table. For example the Ultimate Fighting Championships only recognize women titles in the categories of Bantam weight, Straw weight, Fly weight and Feather weight. These happen to be the lowest weight categories on the table.
MMA Fighters
The sport of MMA has a number of amazing fighters from all over the world today. Since the sport is an ever evolving one, so many great fighters come onto the scene with each event. However, like in all things in life, there are certain names that continue to stand out with each fight and each category.
MMA Champions
Popular opinion and results have shown that below are some of the best athletes in Mixed Martial Arts today.
Conor McGregor (The Notorious)
This is the first name on this list for a reason because he has been ranked by everyone including the business insider as a sensational fighter. This UFC welter weight Irish striker is a two weight world champion with famous wins over Jose Aldo in 2015 in a record 13 second first round and Eddie Alvarez in 2016. Despite the fact that since 2016 he has not had any meaningful wins, his level of competition before then still earns him the respect that he commands today. It is said that 2020 is the year of his come back and that he has intentions of raising his game and making a great stand. He is definitely one to look out for.
Khabib Nurmagomedov (The Eagle)
This Russian UFC lightweight wrestler might only be 28 years old but his pound for pound tactics have made him unbeaten and the number one athlete in MMA. He has managed to smash his way through his opponents without losing a round and has been unbeaten for 28 bouts and holds the longest undefeated streak in MMA history.
MMA Live Streams MMA Live – Where to Watch
MMA live streams are available online and on pay TV. Pay TV like GOTV, DSTV and Startimes have a number of sports channels and given the popularity of the sport, you are bound to find MMA fights on there. All you have to do is keep checking since new or details about upcoming events are usually publicized beforehand. A number of online bookmakers also offer live streams as well as highlights for any fights that you might have missed.
MMA Betting
Yes that's right, this interesting sport in available for your betting and gaming pleasure. With so many events happening at the same time, there is so much action out there for you to put your money on. And given that some of the top players are always competing, it is easy to get away with winning some money.
Enjoy the best MMA odds by betting with Betway and win real money. Bet while enjoying the sport in real time with the live betting option. Cover all outcomes with your bet and you are guaranteed a sure win. Sign up with Betway today to find out more about how you can place your MMA bets.
25+ Play responsibly. Gambling can be addictive. Play accordingly to the applicable laws of your jurisdiction.