Halimah Nakaayi won the most coveted 800m IAAF race in a shocking finale on Sunday night at Doha.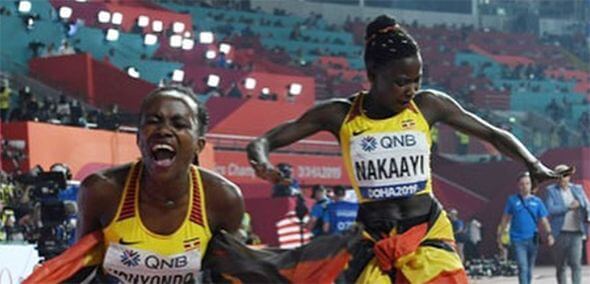 Photo: Instagram
Well call me crazy but I believe that is a big one for all Ugandans especially for our young people. At the age 25 years, who knew that she would make it but for determination and hard work. Many attribute this win to the absence of Castor Semenya who has historically dominated the race and could not make it to Doha because of a decision to eliminate athletes with elevated testosterone levels. Well with or without Castor, it was Nakaayi's time to shine and shine she did.
Pre-race favourite Ajee Wilson (odds 1.30) tried to dictate the pace at the beginning but Nakaayi already had her sights to crossing the finish line first. At 700 meters, Nakaayi and Wilson were running steadily side by side but it was Nakaayi's time to win the gold in 1:58.04.
Hailing from central Uganda and in true Baganda tradition she celebrated with dance alongside fellow athlete and finalist Winnie Nanyondo who came in fourth in the race. What a win and what a celebration indeed.
Huge win for those who bet on Nakaayi's triumph
Huge celebrations also come to all those who bet on her unexpected win. Imagine the odds for Nakaayi's win on Betway were on 55.00 and compare to 1.30 pre-race favourite Ajee Wilson.
Meaning if you only placed shs. 1,000 on Halimah, you would walk away with a whooping shs. 55,000. Free money in your pocket. When asked about her hopes for the Tokyo 2020 Olympic Games, she said her future was bright and she would keep up with her training pattern. She is definitely someone to look out for in Tokyo and a force to be reckoned with. Kudos Nakaayi, you made us proud. And why not place your bets on her in Tokyo. I bet odds are now lower than crazy 55.00, but still very nice ;-)
25+ Play responsibly. Gambling can be addictive. Play accordingly to the applicable laws of your jurisdiction.