Supa5 Uganda Lottery
While we were still reeling and recovering for the amazing Supa3 lottery, Bet City decides to bring us yet another big one that promises higher returns and rewards. Supa5 is the new kid on the block from Bet City, a gaming company that is regulated and licensed by the National Gaming Board of Uganda and has been operational for a number of years now.
Rating of Supa5 Uganda: 8.5/10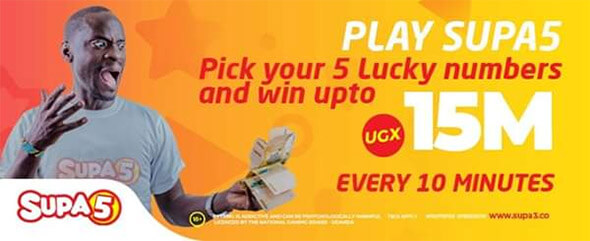 Photo: Supa5 Uganda
Supa3, Supa5 and More Online Lotteries in Uganda
To better understand what Supa5 offers, it is best to give it some context. We all know that Ugandans love their gaming but there is nothing they love more than gaming that leads to huge rewards. But who are we kidding here, the above is true for every gamer around the world. There are a number of lotteries that are running the country, for example the aforementioned Supa3, Lucky 3, the new supa 5 or Betway's lucky numbers among others. The one thing that these three have in common is that you select your lucky numbers and stand a chance to win a huge jackpot.
Supa5 Uganda – How to Register and Play
If you have played the Supa3 lottery then this one will be a piece of cake. But if you are a first time gamer, there is still no reason for you to be worried since the lottery is pretty straightforward and simple to play. All you need to participate in the lotter is your mobile phone, a valid mobile number, either MTN or Airtel and some funds on your mobile money account. To be exact, you need at least shs. 1,000 (Uganda Shillings One Thousand Only). Yes, that right with just 1k, you could participate in the Supa5 Lottery and stand a chance to win tons of money. Get that supa feeling by selecting 5 of your lucky numbers of your choice and win every 10 minutes. Let's get into how to play this amazing lottery.
Supa5 Betting with Airtel and MTN
Betting on Airtel and MTN has been made easy since there are not many prompts that you have to go through.
To play on Airtel dial *185*33# while on MTN dial *165*33#.
You will get a notification welcoming you to the supa5 and supa3 lottery and a prompt for you to enter either your lucky 5 or lucky 3 numbers of your choice.
Entering 3 numbers means you will be participating in the Supa3 lottery while 5 numbers means you will be participating in the Supa5 lottery
Numbers entered should be between 0-9
You will be prompted to enter your bet amount, from as little as shs. 1,000 (Uganda Shillings One Thousand Only)
Enter your mobile money pin to confirm the transaction and then wait to see if you are a lucky winner.
Supa5 Uganda – Winners & Results
Supa5 is a game that you can conveniently play on your phone at any time and in any place. Results and winners are always displayed on any of the Supa5 pages like Facebook and Twitter and winners contacted. Please visit any of their pages to view testimonies of previous winners.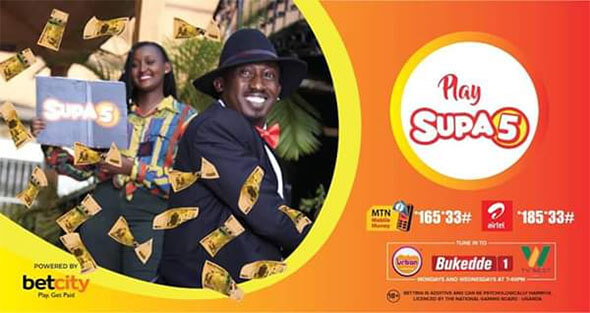 Photo: Supa5 Uganda
Supa5 Jackpot
Every shs. 1,000 (Uganda shillings One Thousand Only) played gives you a chance to win 2x, 200x, 300x and 500x your stake every 10 (TEN) minutes. Meaning for every 1k played every 10 minutes, someone lucky wins big. And that is not all, every stake guarantees you a ticket into the jackpot that is aired every Monday and Wednesday live on Bukedde TV and TV west at 7:40pm. The jackpot changes and grows every week so the more you play, the more money you could stand to win. Today is the perfect day to win so why not play.
Supa5 Uganda Contact Numbers
There is nothing con artists want more than attaching their names to good things. Well don't be conned. Supa5 will contact you if you are the lucky jackpot winner and you could even go a step further to tune into the live shows to see for yourself. The company will not ask you for any sensitive information. When in doubt, you can send them a WhatsApp on 0780235737 or visit any of their pages on Facebook and Twitter.
25+ Play responsibly. Gambling can be addictive. Play accordingly to the applicable laws of your jurisdiction.