Online betting
Choose the champions of Africa and win USh 20 million in cash
African best national teams are ready to face off in Egypt and battle it out for continent glory. Predict the score of each match in the 2019 AFCON competition to earn points, top the leaderboard at the end of the competition, and you'll walk away with USh 20 million in cash.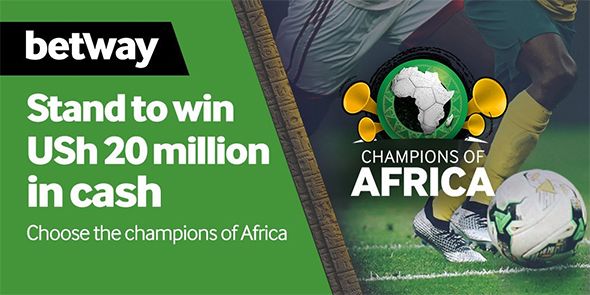 Picture: Betway Uganda
Champions of Africa - Betway Uganda rewards the winner with 20 million
Betway Uganda is offering the promotion you should not miss. Why? Because you can win USh 20 million in cash completely for free!
Predict the score of each match of Africa Cup of Nations 2019 to earn points. Exceed all the opponents in the competition, and you'll walk away with USh 20 million in cash.
It's really easy to compete and your predictions cost nothing. Just login to your Betway Uganda account, tap the promotion picture and start predicting the results.
Not a Betway customer yet? Read about how the simply create a new account with Betway Uganda.
Champions of Africa promotion - Entry requirements
Entrants must predict the score of each match in the 2019 AFCON competition.
The competition will run from 22 May – 19 July 2019.
Entrants may only make one prediction per match and all submissions are final.
Entrants will have up until five minutes before kick-off to make their predictions.
In order to qualify for the grand prize, customers must have a valid Betway account and have made one minimum wager before the end of the final match.
Bet on Africa Cup of Nations with Betway Uganda
The battles about the continent trophy starts on Friday 21st June, when Egypt faces Zimbabwe in the opening match in Cairo. The next day the tournament also starts for the Cranes who will play againts Democratic Republic of the Congo.
With Betway Uganda you can bet on all tournament matches and also tournament and group winners. Also live-betting will be available for all matches. Check all Betway odds here.
You can place all bets on Betway Uganda mobile website, but we strongy reccomend to install Betway App, which is available for Android and iOS. Even if Betway mobile website is really good, the betting through the App is simplier and more user-friendly.
BETWAY UGANDA - USh 200,000 IN FREE BETS
Start betting on sports with Betway Uganda and get up to USh 200,000 in Free Bets. Download Betway mobile App and enjoy the best odds in the market.
25+ Play responsibly. Gambling can be addictive. Play accordingly to the applicable laws of your jurisdiction.