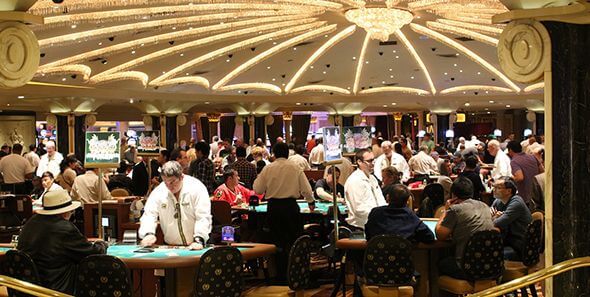 Photo: Pixabay
How Casinos Make Money from Poker
As probably everyone knows poker is one of the most popular casino games because of its simplicity and interestingness. It's very simple to play and stake money especially in Texas Hold'em, which is the most popular variantion of poker.
With poker all you need to do is have a best hand which makes your opponent to fold making you a winner. How do you get this best hand?  ….. Well in Texas Hold'em you are given two cards as player and your opponent is also given the same at the beginning of the game.
Once you receive these cards, you will get access to five more commonly shared cards which you will use to make a best five card poker hand. There are four rounds of staking / betting that every player gets to play and stake, once they are done and you still have the best hand then you are entitled to the prize pool ...  It's sounds simple, but it's much more complex in reality! If you are interested, read more about the rules and strategies in Texas Hold'em Poker.
Probably wondering how casinos make their share out of people playing poker?  For poker, casinos do not wager against its players.  Instead a player wages against a player therefore the casino charges a fee of about 2 to 10% of the sum of each player's poker hand. Casino can never lose money when organize poker tournaments or cash game sessions.
How Casinos Launder Money
Money laundering is the process it takes for criminally earned money to be made legal in the country. Criminally earned money are incomes from crimes like arms trafficking, selling drugs that are illegal or any other substance that is illegal.
This process has gradually become popular in land based casinos. The money launderers loan out the money they want to launder to casino high rollers (these are people who seem to spend a lot of money in gambling and also tend to win a lot of cash) so that they can turn them in to chips and gamble part of it.
The money launderers go ahead and hire some casino players who spend small money in casinos and are not major winners or don't have good luck to face off with the high rollers. Once the high rollers get to win back the cash, this cash is then cashed out as revenue (which is now legal) to the high roller who then in turn pays back the loan to these money launderers.
So just in case you are a casino dweller so much, one thing you should keep in mind is not to get any loans from people just so to spend it on gamble because this can put you in a lot of trouble with the law.
What Casino Games Pay Real Money
All casino games like slot games, baccarat, video poker, blackjack or roulette can earn you the real money. No matter if you play in online casinos or in land based casinos, both are available in Uganda and you are eligible to play if you are over 25.
Online casinos are available for desktops and smart phones and you can play whenever and whereever you are. Most popular online casinos in Uganda are Betway casino and Betin casino, but you can also check the list of all online casinos available in Uganda.
How Casinos Make Money from Baccarat
Baccarat is the casino game with a good reputation because of being one of the highest paying casino games in the world. It's a card game played between a player and the banker. Read the rules of Baccarat here to understand the game.
You can get to maximize profits given the fact that the casino's edge is only 1%. This is probably the lowest percentage of wagers taken off by a casino as a game is being played which act as a commission paid to the casino.
25+ Play responsibly. Gambling can be addictive. Play accordingly to the applicable laws of your jurisdiction.