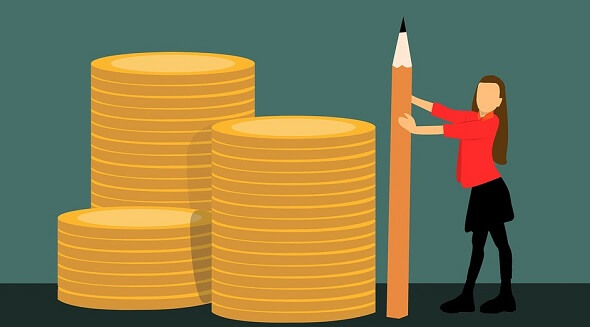 Photo: Internet
Playing on slot machines or enjoying casino games such as blackjack or roulette offers a lot of excitement. However, a disciplined approach towards online gambling is imperative in order to enjoy a responsible experience in an online casino. The setting of a budget (and sticking to it) is therefore the first important step towards a safe and enjoyable time spent with playing for real money.
Create a budget dedicated to online gambling
First of all, it is important to determine the amount of money that you would like to use for playing in online casinos over a certain time period (for instance a month). Such an amount is of course individual and it depends on your income, your obligations and your lifestyle. Simply use the following rule of thumb: the amount of money spent in online casinos should not be missing in any other areas of your life. This means that playing in an online casino should not limit your ability to meet short and long-term obligations and it should not impact any of your activities.
If we speak about setting a budget, casino bonuses and free spins have to be mentioned. Players who play with a budget use usually every chance to boost their funds thanks to a bonus. There are two ways how to implement a bonus into your budget. You can either deduct the specific bonus amount from your budget in order to save funds or you can add the bonus amount to your current budget and increase the amount of money you are going to play with.
Choose one or more slot machines you would like to play on
It is important to choose a specific slot machine you want to play on. The first criterion applied in the assessment process is the long-term profitability of a casino slot machine or casino game. It means simply how much of your invested money do you get in return. Online slots have a profitability of 95%, which is much higher than in land based casinos.
The second criterion is related to the selection of an online slot. Some players prefer jackpot slots which give them the chance to win a huge amount of money compared to the value of their initial stake. Other players choose their online slots based on the themes, the features or gaming mechanisms.
Adjust your budget to the way you play in online casinos
After you have selected an online slot, you should adjust your budget to the way how you play. It is furthermore recommended to decide how often you are going to play. Are you going to play on a daily basis, once a week or just once a month? After setting a specific budget amount per time unit, you should think about the way you are going to play on the selected online slot.
Pay attention to the value of the coins you are going to play with. Do you want to play with a higher coin value to increase your chances to win big but simultaneously risk losing more money? Or do you want to play it safe and choose a lower value of the coins? It is also important to assess the number of paylines you are going to activate. The more paylines are activated, the higher are your chances to win. However, the higher the number of activated paylines is, the higher is also your stake. You should therefore try to find a balance between the number of activated paylines and the coin value. Free casinos are advantageous in this regards, because they allow you playing for free – we recommend you to play your selected casino slot in a free mode before switching to playing for real money.
Tips how to stick to your budget
Do not exceed your set budget. You should not try to compensate a bad luck streak with even more spins. The same goes also for a streak of good luck. Think at first how to use the money you have won before you are going to invest it into further spins.
Calculate with losses. The profitability of online slots is never more than 100%, because it would mean losses for the casinos and every player would always win. You should calculate with losses when setting your budget.
Use your winnings wisely. The amount you have won determines your decision what to do with the money. Higher wins open up many possibilities. You can use your winnings to cover your previous losses or you can increase your budget for the next time period. However, you can also simply withdraw the money from your account and buy something nice for it.
Pay attention to the way how you play and make adjustments if it is required. Take your time to find the right balance between the coin value and the number of used paylines. Experiment with other slots, because playing for free in online casinos offers you the best chance to test new games.
Keep records about your wins and losses. Playing in online casinos requires keeping records about your wins and losses, so you can have an overview about the state of your budget in the short and long-term.
Think long-term. Do not let winning or losing streaks throw you off the balance. Think long-term and stick to your gaming plan. After a longer period of time, you are going to have enough data and experience in order to change the way how you play.
25+ Play responsibly. Gambling can be addictive. Play accordingly to the applicable laws of your jurisdiction.